Have you been stuck in traffic getting to Squaw?  Have you driven all the way to the mountain only to find the parking lot is full?  Have illegally parked cars blocked your driveway?  Want solutions?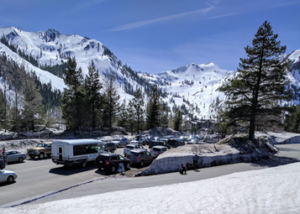 If so, the Squaw Valley Municipal Advisory Council (MAC) has scheduled a review of the Squaw Valley traffic and parking situation at their next meeting, Thursday May 4th, 2017 at 6pm.  The topics and speakers will include:
Discussion on traffic, parking, and transit on Squaw Valley Road and Highway 89. Presenters will each give a brief overview of their entities' role and ways they are helping to mitigate issues. Presenters: Kyle Creeze, Squaw Valley Ski Corp; Representative to be advised, California Highway Patrol; Steve Nelson and Teresa Limon, Caltrans; Peter Kraatz, Placer County Department of Public Works; Will Garner, Transit Manager, Placer County; Jaime Wright, Truckee North Tahoe Transportation Management Association (TNT TMA).
The public is encouraged to attend.  Below is the time and location of the meeting:
Thursday May 4, 2017 – 6:00 PM
Squaw Valley Public Service District Community Meeting Room
305 Squaw Valley Road, Olympic Valley, California